Since 2000, several of Kyle's choral pieces have been published. Through 2019, each of his published pieces has appeared on one or more regional or national American Choral Directors Association reading lists, publisher/distributor clinics, and/or denominational worship planning resources.
Commissions are welcome for choirs of all sizes and abilities, with or without accompaniment or instruments. Please email kyle@kyle-haugen.com.
Below you'll find  information about Kyle's published choral music, including links to purchase scores and recordings. Near the bottom of the page you'll find information about selected manuscripts or soon-to-be-published pieces. Pieces are listed alphabetically by title.
Be Thou My Vision
St. Olaf Choirbook for Women, ed. Carol Carver; Augsburg Fortress; SSA with optional piano accompaniment
This three-part women's setting of the beloved Irish hymn with optional piano accompaniment offers a fresh harmonies and a brief recurring interlude between stanzas that provides the building blocks for a coda at the end of the piece. Especially well-suited to smaller ensembles.
Contents include:
All Things Bright and Beautiful (Aaron David Miller)
Be Thou My Vision (Kyle Haugen)
Christmas Night (Kim André Arnesen)
I Am the Light (Ralph M. Johnson)
In the Bleak Midwinter (Nancy M. Raabe)
Now Thank We All Our God (Michael Rosewall)
O Little Town of Bethlehem (Kenneth Jennings)
Prayer Litany (Helen Kemp)
The Lone, Wild Bird (Nancy Grundahl)
Thy Holy Wings (Nancy Grundahl)
Wind Song (Lim Swee-Hond/Helen Kemp)
I Wonder As I Wander
St. Olaf Choirbook for Men, ed. Christopher Aspaas, Augsburg Fortress; TTB with piano accompaniment and optional cello
There are many fine arrangements of this cherished American folk carol. Where some versions may incorporate generous use of rubato and held notes at the cadences, this setting offers a sense of gentle, perpetual, forward motion. A canonic stanza and a cello countermelody culminating in a solo cadenza also distinguish this arrangement.
From the editor: "Haugen's arrangement beautifully captures the mystery and beauty of this beloved song."
Contents include:
Beautiful Savior (F. Melius Christiansen)
Come, Ye Disconsolate (Terre Johnson)
Come, Thou Long-Expected Jesus (Michael Cox)
I Wonder As I Wander (Kyle Haugen)
In a Lowly Manger Born (Nancy Raabe)
In the Bleak Midwinter (Christopher Aspaas)
Jesus Loves Me (John Ferguson)
Lamb of God (F. Melius Christiansen)
Let the Whole Creation Cry (Carolyn Jennings)
Let the Whole Creation Cry (John Ferguson)
Rise Up, O Men of God (Kenneth Jennings)
The King of Love and Grace (Christopher Aspaas)
This Joyful Eastertide (John Ferguson)
Were You There (Robert Scholz)
Infant Holy, Infant Lowly
St. Olaf Choral Series, Augsburg Fortress; SATB with piano accompaniment
This tender Polish carol is set with a lush piano accompaniment that hearkens to one of Poland's most famous musical progeny, Frederic Chopin, and his famous "Raindrop" prelude. The first stanza may be sung in Polish (a pronunciation guide is provided).
From the publisher: "In this work, composer Kyle Haugen creates a lovely arrangement of the beloved Polish tune W Zlobie Lezy. Included in this composition are quotations from a Chopin Prelude, which help to harken back to the Polish heritage from which the tune originally came."
Order from J.W. Pepper (Note: older stock is incorrect cover/series)
Lost in the Night
St. Olaf Choral Series, Augsburg Fortress; SAB, optional solo, with piano accompaniment
From the publisher: "Kyle Haugen, new to the Augsburg catalog, pairs this Finnish folk tune melody with a contemporary piano line. This three-part anthem is great for choirs with limited forces or those in search of a more intimate Advent setting."
"Lost in the Night" has been performed across the United States, including cathedral Lessons and Carols programs and college choir tours. The piece was presented by Dr. Anton Armstrong and the St. Olaf Choir for the annual PBS television broadcast, Christmas at St. Olaf, airing from 2001-2004 nationwide.
Commercial recordings of "Lost in the Night" include (click to open in new window):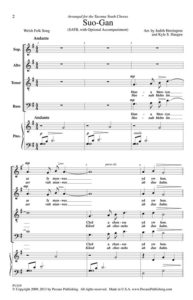 Suo-Gan
Choral arrangement by Judith Herrington; piano accompaniment by Kyle Haugen; Pavane Publishing; SATB, optional piano accompaniment
From the publisher: "Sometimes simplicity says it best. The lovely Welsh tune Suo-Gan has been arranged with intelligent reserve by veteran Judy Herrington and newcomer Kyle Haugen. Texts are provided in both English and Welsh with pronunciation guides. An excellent choice for high school choirs."
From J.W. Pepper: "In this arrangement of the lovely Welsh tune, the text is first sung in Welsh with phonetic subtext, then in English. It really captures the authentic sound and feeling of the ancient melody, which is supported by lush choral harmonies and a delicate piano accompaniment."
Thy Mercy, Jehovah
Pavane Publishing; Two-part with piano accompaniment
From the publisher: "Kyle Haugen has done a terrific job of making Benedetto Marcello's Baroque piece work for any combination of voices. Perhaps the most enjoyable thing about this piece is the keyboard's running bass line, which eventually appears in the voice parts. The anthem has a powerful drive that is energizing and contagious. Great for church or concert and appropriate for all ages."
From J.W. Pepper: "Introduce your students to music of the Baroque era with this masterwork based on Psalm 36…."
Where Shepherds Lately Knelt
St. Olaf Choir Series, Augsburg Fortress; SATB divisi with piano accompaniment
Jaroslav Vadja's contemporary poetry placing the listener beside the Christmas manger is given a new musical treatment for choir and piano. The two lines concluding the first stanza, "But there is room and welcome there for me / But there is room and welcome there for me" have special prominence throughout this new setting. The middle section of the piece features piano accompaniment inspired by a Brahms intermezzo.
Order from J.W. Pepper (EDITOR'S CHOICE)
Selected Manuscripts (information only)
Rejoice, Rejoice! Fanfares and Carols at Christmas
Manuscript; SATB divisi, optional Children's Chorus, and Assembly with organ, brass quintet, timpani, percussion (glockenspiel, tubular chimes, cymbals)
Rejoice, Rejoice! Fanfares and Carols at Christmas premiered in December 2016 as the finale to the Northwest Repertory Singers annual Christmas concert. The four featured carols were selected by Artistic Director Paul Schultz: "O Come, O Come, Emmanuel," "Joy to the World," "Away in a Manger" (tune: Cradle Song), and "O Come, All Ye Faithful."  The opening movement, A Christmas Overture begins with a bold fanfare and then highlights thematic material from the carols; a Christmas waltz is introduced, later serving as a countermelody to "Away in a Manger." A short musical motiv ("rejoice, rejoice") excerpted from the refrain of "O Come, O Come, Emmanuel" provides a through-line across the 15-minute work. The piece features subtle homages as well as a nods to the structure of the "Liberty Fanfare" of John Williams and the incomparable David Willcocks.
We Wish You a Merry Christmas
Manuscript; SATB, piano duet
A playful take on the holiday favorite, this arrangement features 4-hand piano duet and an homage to a Mozart sonata in the accompaniment. A rollicking, fun piece that makes a great closer or encore.
---
What Cheer?
Manuscript; TB or SATB, harp or piano, flute, tambourine
Angular rhythms reminiscent of a Renaissance dance support the refrain, What cheer? Good cheer! Good cheer! Good Cheer! Be merry and glad this good New Year. Effective with piano, the setting can also be accompanied by harp. A spritely flute and tambourine round out the ensemble.  The hybrid sacred/secular text spans Lessons and Carols to a madrigal feast.